The following is another artical written by Penne J. Laubenthal and published at Swampland.com. The picture painted of Rogersville is of quite a happenin' place. Please plan to come and be a part of the wonderful events described below.
Bill
The Shoals Area Heats Up for the 31st Annual W. C. Handy Music Festival
It's almost that time again when the hills of North Alabama are alive with the sound of music. The 31st annual
W. C. Handy Music Festival,

which runs July 20 through July 29, 2012, is a ten day annual celebration of over 300 events at locations throughout the Greater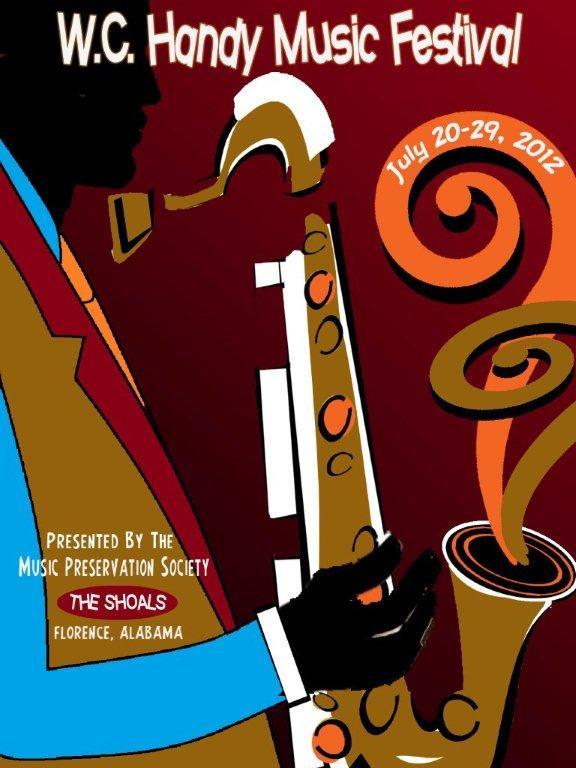 Shoals Area. Music is the central focus with performances being held daily from late morning until late night at various venues throughout the Shoals.
This year the headliner for the finale concert on Saturday night, July 28, is the acclaimed gospel "quartet,"
Blind Boys of Alabama

.
The climax of last year's festival was a blockbuster concert headlined by
The Drive-By Truckers with opening acts by The Decoys, Spooner Oldham, and friends

. It was a star studded evening, capped off by a VIP party hosted by award winning Florence based clothing designer
Billy Reid

at his trendy boutique on Court Street, and we were there. Randy treated me to VIP tickets to the concert and reception for my birthday, and I have asked for a repeat of that gift for this year's concert featuring the
Blind Boys of Alabama

.
Christine Ohlman
, the flashy, gritty platinum-blonde "Beehive Queen," who is the longtime vocalist with NBC's Saturday Night Live Band, will join the Blind Boys for a special song. It will be a moment you won't want to miss!
The Blind Boys of Alabama will perform on Saturday, July 28, at 7:30 PM, at Norton Hall on the University of North Alabama campus. Many of the events during Handy Fest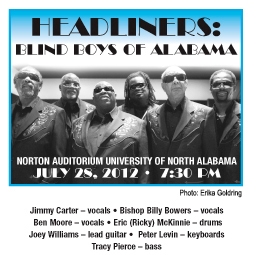 are free, but tickets are required for the final concert. Tickets at $30 per person for The BIind Boys of Alabama concert may be purchased in advance on the W.C. Handy Festival website. The $100 VIP Package which includes two reserved seats, Meet & Greet with the Artists, and one CD that can be autographed at the Meet & Greet may be reserved in advance by calling 256-766-7642. VIP tickets will be available for purchase beginning July 16th at the Handy Festival Office located at the Kennedy-Douglass Center for the Arts.
For more than 70 years, the Blind Boys of Alabama have shared their unique music with the world. They have been recipients of 5 Grammy Awards, including the Grammy Lifetime Achievement Award and 4 Gospel Music Association Dove Awards. In 2003, the group was inducted into the Gospel Music Hall of Fame, and in 2010 they were inducted into the Alabama Music Hall of Fame. In 2005 The Blind Boys of Alabama received the American Foundation for the Blind's distinguished Helen Keller Personal Achievement Award which is presented to individuals and organizations that have improved the quality of life for people who are blind, visually impaired or disabled.
My friend, filmmaker Robert Clem, recently produced a documentary about the gospel quartets of Alabama entitled
The Jefferson County Sound: Alabama's Black Gospel Quartets
. The Blind Boys of Alabama feature prominently in the film. You can read the review of
The Jefferson County Sound
right here on Swampland.
In its 30 plus year history the W. C. Handy Music Festival has hosted a wide variety of headliners including Dizzy Gillespie, Ellis Marsalis, Diane Schuur, Nancy Wilson, Ramsey Lewis, Bobby Blue Bland, Roy Ayers, Roberta Flack, Manhattan Transfer, Phil Woods Quintet, Billy Taylor Trio, Take 6, Mac McAnally, and The Great Guitars, among many others. In keeping with the mission of the Music Preservation Society, which is to present, preserve, and promote the musical heritage of Northwest Alabama, the Handy Festival offers a mix of local, regional, and nationally recognized musicians who will be performing throughout the week of July 20. The Shoals has produced and attracted talented and internationally lauded industry professionals, and forms the base point of a musical triangle that extends from Memphis to Nashville and back.
A host of celebrated musicians will be performing at various venues during Handy Week. In addition to joining the Blind Boys of Alabama on stage on Saturday night, Christine Olhman will also be appearing with The Decoys in a concert at the Marriott Shoals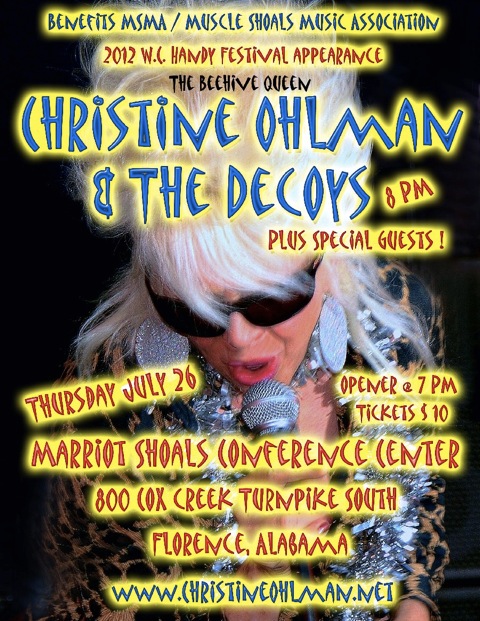 Conference Center at 8 PM on Thursday, July 26. Doors open at 7 pm. Tickets are $10 per person. This concert benefits the Muscle Shoals Music Association (MSMA).
Olhman said of the Handy Festival: "I treasure the music and the people of The Shoals...so many wonderful friends. It's like being part of a family where soulfulness is the #1 thing, and hearts are truly on fire with the groove. All of this is embodied in the W. C. Handy Music Festival, and I can't wait to return this year."
On Tuesday night, July 24, internationally renowned trumpet player
Ken Watters

will join a star studded group of talented friends to present "An Elegant Evening with Ellington" at the Shoals Theatre at 7:30 PM. Tickets for this event at $15 per person may be purchased at the door or at the Shoals Theatre office.
Ken had the following to say about the Handy Fest: "This festival is always one of the absolute highlights of my year. Feels like a really fun working vacation. Duke Ellington is one of the most important composers in jazz history. Dedicating an evening to his legacy will be an honor."
However, music isn't the only entertainment to be found at the Festival. The schedule is a mosaic of diverse events that offers something for everyone, including music, art exhibits, theatre, educational programs, a music camp, car shows, and recreational and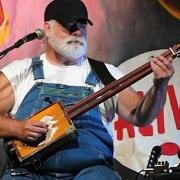 sports activities. This year Dave Gallaher, aka
Microwave Dave

, who is known far and wide not only for his outstanding guitar playing but also for his handmade cigar box guitars, will host a series of programs at the area public libraries for the younger set.
Regarding his series for young people at the public libraries, Dave said, " Besides a number of performances with the Nukes, I really enjoy taking my solo/looping rig into the children's events that take place in libraries in the various Shoals communities. Kids build instruments from recycled stuff, then honk, twang or bang them along with my playing. Way too much fun..."
In addition to hosting the series at the public libraries, Dave will be playing with his incredible band Microwave Dave and the Nukes at such venues as Ricatonis, Rosies, and Crocodile Ed's during festival week. Dave said that the Handy Festival was high on his list of favorite engagements. "Besides the joy of performance," Dave said, " I get to stoke my music jones by attending shows by some amazing players and writers, all of which take place in venues that allow close observation and the opportunity to mingle with these artists. There's no other event like it. I always encounter people from out of the country and out of state who return annually. Come once; you'll come back."
Handy Festival athletic events vary but typically include the Century Bike Ride (ranked as one of the top five in the U.S.), a 5K run, 1 mile run and walk, and sometimes fishing tournaments, golf tournaments, swimming, tennis, and volleyball matches as well.
As a multi-disciplinary arts event, the Festival also includes
"Determined
," a play about the life of W.C. Handy. "
Determined
" will be performed on Monday, July 23, at 7:30 PM at the Shoals Theatre.
One of the kick-off events for this year's festival is the 11th annual Bluegrass Festival in Rogersville, Alabama, July 19-21. The Bluegrass Festival is a popular summer event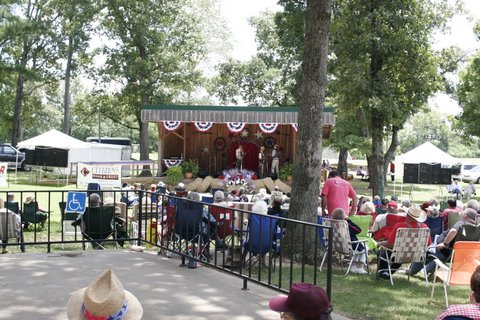 offering some of the finest bluegrass music in Alabama. Fans from across the south will gather on July 19 at Rogersville Recreation Park for this year`s three day event featuring Bobby Osborne & Rocky Top X-Press, Donna Ulisse & The Poor Mountain Boys, Lorraine Jordan & Carolina Road, Stan Nelson & Hurricane Creek and more. Kick-off night will be the 2nd Annual Fiddlers Competition, with categories for guitar, banjo, oboe, fiddle and mandolin. Other entertainment includes Shade Tree Band competition, Buck Dance Competition, Beauty Pageant and ongoing jam sessions. There will be food and craft vendors on site, and bluegrass t-shirts will be available at Chamber of Commerce booth. Nightly cash prizes will be awarded, so bring your lawn chairs and kick back or kick up your heels on the clogging stage.
This year a brand new W. C. Handy Music Festival event will take place in Rogersville on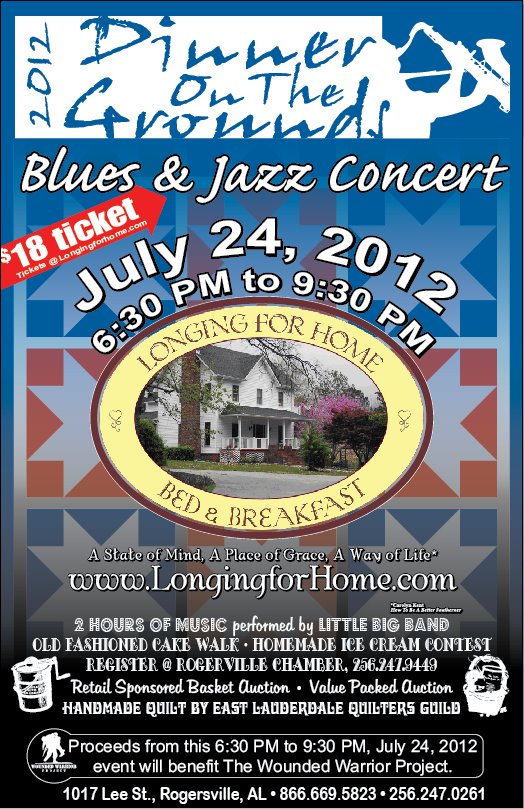 Tuesday, July 24, from 6:30 PM to 9:30 PM. Longing For Home Bed and Breakfast in conjunction with the Rogersville Area Chamber of Commerce and local merchants and civic organizations will present its "2012 Dinner On The Grounds" Blues & Jazz Concert" with music provided by the "Little Big Band" directed by Dr. Edd Jones of the music department of the University of North Alabama. This unique Handy Fest event includes an old fashioned Cake Walk, the first annual "Freeze Off" to give bragging rights to the areas best home made ice cream maker. Additionally, there will be an auction of gift baskets donated by many of our local shop owners as well as the auction of a hand made quilt created and donated by the East Lauderdale Quilters Guild. Café Savanna and Whitt's Barbeque will sell box dinners during this event. Purchase your advance tickets now at $18 per person (not including the box dinner) by going to the
Longing for Home
website. Proceeds from this event will benefit
The Wounded Warrior Project.
For you folks who are not familiar with the charming little town of Rogersville, just 25 miles east of Florence, Alabama, I recently posted a feature on Swampland entitled
"Mayberry is Alive and Well in Rogersville, Alabama."

The Greater Shoals Area of North Alabama is truly a happening place as well as a vacation paradise. Try it. I guarantee you'll like it.
To obtain a detailed listing of Handy Fest events, order tickets for the Blind Boys concert, and to see an interactive map of the festival venues, go to the
W. C. Handy Festival website
. You can download the brochure from the website or pick up a brochure at the Festival headquarters in downtown Florence, Use the find box on the website to search for your favorite group or artist.
----by Penne J. Laubenthal
Have a blessed Day. Betty Maloney
Longing For Home Bed and Breakfast
"A State of Mind, A Place of Grace, A Way of Life*"
* Taken from the book, How to be a Better Southerner by Carolyn Kent.