The following is an artical written by Penne J. Laubenthal and published at Swampland.com. The picture painted of Rogersville is quite wonderful. Thought you would enjoy.
Bill
Mayberry is Alive and Well in Rogersville, Alabama
Posted: May 21, 2012
Herny David Thoreau went to the woods because he wanted to "live deliberately." I go to Rogersville, Alabama. Rogersville is a progressive little town that has managed to keep the flavor of a time gone by. Located in north Alabama between the cities of Athens and Florence, Rogersville bears a close resemblance to the fictional town of Mayberry from the Andy Griffith show. Because I am fascinated by what is referred to as "six degrees of separation," I cannot resist including the fact that the late
George Lindsey

(aka Goober Pyle ) received his BS degree in 1952 at what is now the University of North Alabama in Florence, just thirty minutes up the road.
Considered part of the greater Shoals area, the town of Rogersville is situated off U.S. Highway 72, the east/west artery for northern Alabama. Highway 72 has its eastern terminus is Chattanooga, Tennessee and its western terminus is Memphis,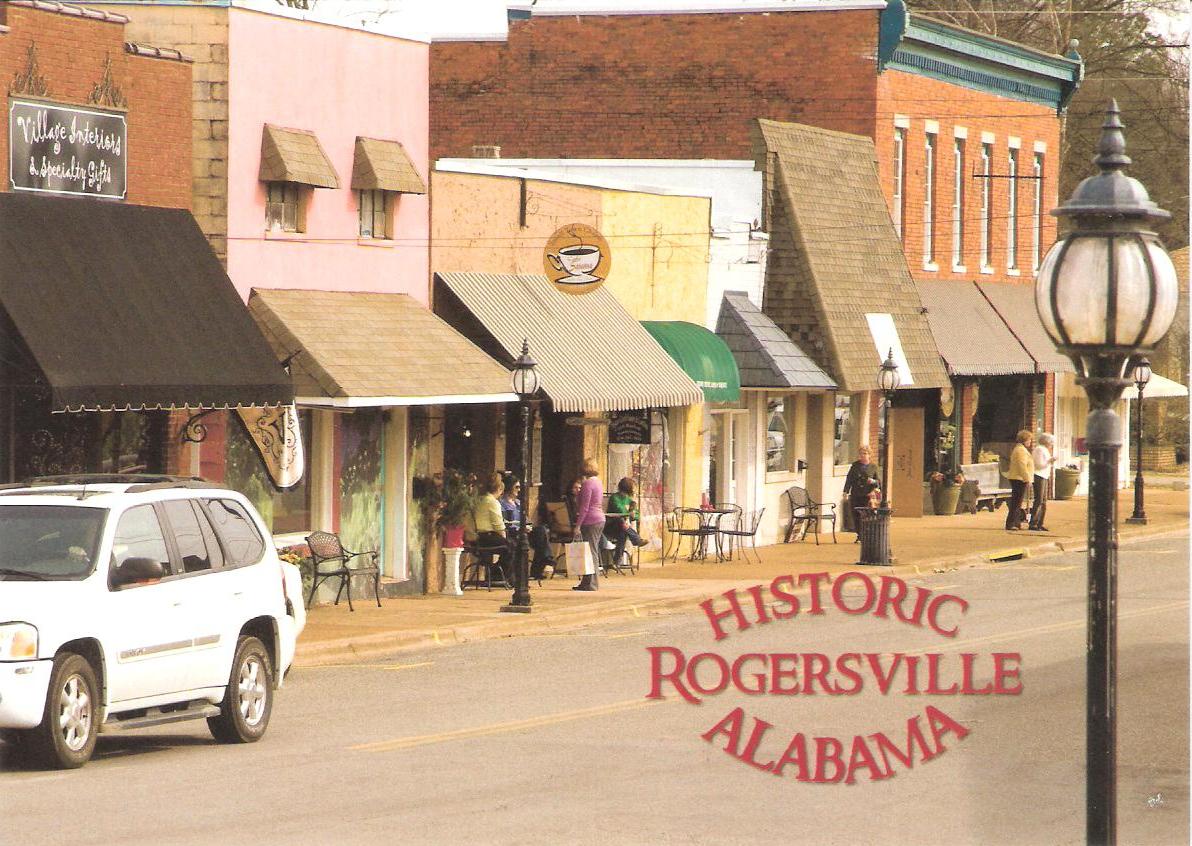 Tennessee. Rogersville, which is only a couple of miles from the beautiful Elk River and only minutes from the majestic Tennessee and the popular Joe Wheeler State Resort, is renowned as a "Fishermen's Paradise." (photo of Lee Street)
Signs on Highway 72 advertise Rogersville as the perfect place to "Shop...Fish...Golf...Eat... Live---for the fun of it." Rogersville is where one goes to experience life at a leisurely pace. Except for the few people who are always in a hurry to get anywhere, the citizens of Rogersville always have time to stop and chat, and meandering pedestrians are not likely to be run down by a speeding car.
With a population of less than 1300, Rogersville has no Walmart or superstore, only a Foodland grocery. There is only one traffic light and it is on U.S. Highway 72. The chain stores consist of a couple of dollar stores such as Fred's, a Hardees and a McDonalds, and two auto supply stores. Almost all of the shops and businesses are locally owned. My friend Joe Warren who owns the Rogersville BP station will take a check, and even hold it if need be.
It is my good fortune to live on Elk River less than fifteen minutes from Rogersville where, like Cheers, everybody knows your name . I shop there, buy groceries there, bank there, and use the locally owned pharmacy there. I buy shoes at Pam's Shoe Store, and I can get anything I want at Rogersville Hardware.
There is an eating establishment on nearly every corner in Rogersville. Cafe Savanna is a charming little deli style restaurant on Lee Street serving breakfast and lunch six days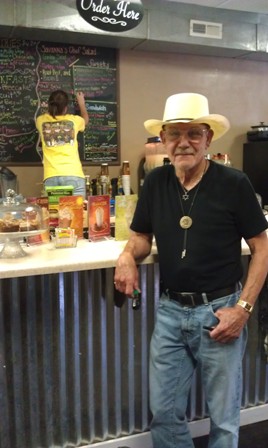 a week. At Cafe Savanna they bake all their own bread and pasteries and make quiche, soup, casseroles, and salads fresh daily. I try to have breakfast there as often as possible, specifically the broccoli, mushroom, and bacon quiche. Several times a month, I pick up a pint or two of the incomparable chicken salad. Cafe Savanna's chicken salad is listed in "100 Dishes to Eat in Alabama Before You Die," and it is definitely to die for. (photo of musician and recording engineer Jerry Masters at Cafe Savanna)
In additional to sweets and sandwiches, you can also get meat 'n three at several restaurants, Mexican, steaks and seafood (Stanfield's and Country Cuisine), pizza, and always barbecue. Rogersville has a branch of the widely acclaimed
Whitt's Barbecue
--an award winning drive through barbecue place that originated in Athens, Alabama, and is now franchised in several states.
Fried catfish is, along with the ubiquitous barbecue, one of the culinary delicacies of north Alabama. Fat Cats on Highway 72 serves delicious fried catfish on Tuesdays and Fridays, and on the first Saturday of every month the local fire department holds a fish fry at the fire house, serving up platters of crisp catfish, shrimp, and chicken fingers along with the usual sides. During the summer there is music on the street, and stores stay open later on the first Saturday of the month. Beginning in June, the Farmers' Market on Wheeler Street is open on Wednesday afternoons and all day on Saturday.
On Lee Street, the main street in Rogersville, there are a number of unique shops and boutiques that feature fashionable clothing and accessories, unusual pieces of furniture, antiques, monogrammed and engraved items, candles, cards, original art, and gifts. One of the dozen gift and specialty shops on Lee Street, The Lemon Tree, carries not only items of clothing and accessories but also gifts, including fine pottery. My gift of choice for any occasion is a piece of pottery by local potter Sue Dura.
Rogersville has a fine little public library, as well as a spacious used book store with reading balcony and the requisite tanning beds. It has a Merle Norman shop, two photography studios, at least two florists, and several resident artists as well as musicians. I regularly see percussionist
Be Bop (Jim) Evans
at Cafe Savanna, and occasionally I see him sitting outside the cafe talking to Hall of Fame musician
Spooner Oldham
.
Festivals abound in the spring, summer, and fall in Rogersville. There are blues concerts and blue grass festivals. Rogersville also participates in the events surrounding the W. C. Handy Festival in Florence, Alabama, held the last week of July. Folks planning to visit the area can reserve a room or a cottage at beautiful Joe Wheeler Lodge just minutes west of Rogersville or relax in an elegant bed and breakfast, a true home away from home, about a mile west of town on Lee Street. Appropriately named
"Longing for Home,
" the B&B sits on fifteen wooded acres that are transected by picturesque Weaver Branch Creek. Each of the three spacious guests rooms has a special feature: a private balcony, a fireplace, or a "Greek soaking tub." All rooms have tall ceilings, and a there is a lovely view from every window.
I cannot talk about Rogersville without mentioning one of my favorite places, the Rogersville Park. Located a mile north of town on Wheeler Street, the park has a half mile jogging track encircling a partially wooded area with shaded picnic tables and a stage for outdoor performances. In the spring the area is filled with colorful flowers and blooming shrubs like rhodendron and oakleaf hydrangea. When the weather permits, I go to the track after having had my quiche and coffee and spend an hour or so restoring my body and my soul. In inclement weather, I head for Tiger Fitness Gym on Lee Street. When I am at the gym, I listen to classic rock on Slacker radio. At the park, I listen to the birds.
Although I have yet to spot Barney Fife in Rogersville, I have seen numerous fellows who look like Andy Griffith. I like to think of Rogersville as my own private Mayberry, a tiny oasis in the desert of the modern world.
----Penne J. Laubenthal
Related articles on Swampland
Have a blessed Day. Betty Maloney
Longing For Home Bed and Breakfast
"A State of Mind, A Place of Grace, A Way of Life*"
* Taken from the book, How to be a Better Southerner by Carolyn Kent.